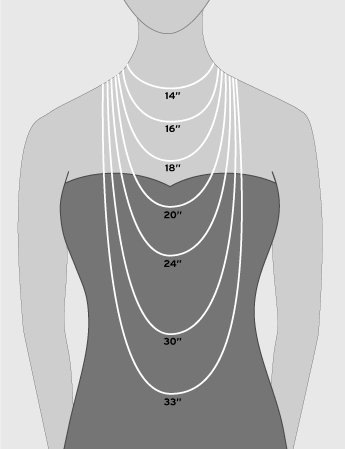 Choosing the Right Necklace Length for Your Neck
To find the ideal length for a necklace that will sit just above your collarbone, use a measuring tape to measure your neck and add 2 to 4 inches. This will help ensure a looser, more comfortable fit. For example, if you measure your neck circumference at 14 inches, the minimum recommended collar or choker length would be 16 inches.
Choosing the Right Necklace Length for Your Height
It is important to consider your height when selecting necklace length. Too long of a necklace may overwhelm a petite frame, whereas too short of a necklace may be lost on a more statuesque figure. This chart details guidelines for selecting necklace length based on your height:
| Height | Recommended Necklace Length |
| --- | --- |
| Below 5'4" | 16- to 20-inch necklace lengths will look best on your body. Additionally, a V-shaped style will help elongate your neckline and make you appear taller. |
| 5'4" to 5'7" | You can wear necklaces of any length. |
| 5'7" or taller | You can wear necklaces of any length, but you will look particularly good in longer styles, as this accentuates your tall frame. |
Standard Necklace Lengths for Men
Necklace chains for men typically range from 18 to 24 inches. Like women's necklaces, most men's necklaces are found in even-inch lengths. The following are the most commonly sold male necklace lengths and where they fall on the average male body:
| Necklace Length | Position on the Body |
| --- | --- |
| 18 inches | Sits at the base of the neck |
| 20 inches | Sits at the collarbone |
| 22 inches | Falls a few inches below the collarbone |
| 24 inches | Falls just above the sternum |
Factors to Consider Before Buying
The smallest necklace size available for men is typically 18 inches. An 18-inch necklace will sit at the base of the neck on the average male. If you are looking for a slightly longer necklace, consider a 20-inch necklace, which will lie directly on the collarbone of the average male. The 20-inch necklace is the most common necklace length for men.The most universally flattering chain length for men is 20 inches, or a necklace that sits at the collarbone.If you are looking for a necklace that falls below the collarbone, consider a 22-inch necklace. The longest necklace size for men is typically a 24-inch necklace, which will fall just above the sternum of the average man.
Men should aslo consider clasp length when purchasing a necklace. A standard clasp size for a man's necklace is three-fourths of an inch, although some necklaces may have significantly longer clasps, which will increase the overall length of the necklace.