Shop By Category
Necklace Length Guide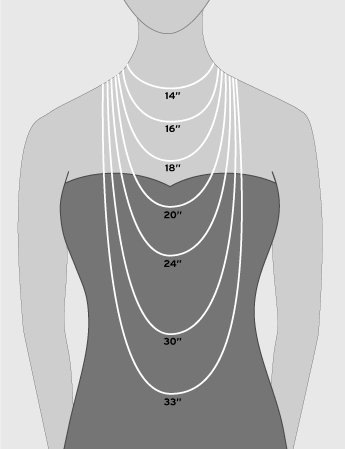 Necklaces are fun and easy accessories that can dramatically change your outfit for a more polished look, whether it be for a wedding, special occasion, formal event, or even for everyday casualty. Here at Ladiesfashionsense, our assortment includes necklaces for all occasions! You will find necklaces offered in gold or silver, with components of Swarovski Crystals, Rhinestones, a number of different pearls, stones, or beads. Browse through an extensive line of fine necklace jewelry products to bring together your complete look. Whether you're looking for a piece that you can wear everyday or a statement piece for that special event, Ladiesfashionsense.com offers a bevy of beautiful sterling silver and designer inspired necklaces designed for every occasion in your life.
We know how stressful planning your big day can be, but you can rest assured that when it comes to your bridal jewelry,
we make it easy and enjoyable for you to shop for your stunning wedding day jewels. Choose from our classic collection of freshwater pearl jewelry to exude
a feminine style, or with one of our dazzling celebrity inspired CZ encrusted beauties.If you want to switch up your style, we can help! Our collection of necklaces include short, long, layer, choker, chunky, simple and statement pieces! It's exciting to see how much you can play around with your style just by mixing and matching our necklaces. Complement your changing necklines by incorporating some of our simple pendant necklaces with a couple of our longer pieces for a casual layered look! Or go bold by layering a couple thicker link and chunky pieces. And you really can't go wrong by mixing different metals. We love the idea of wearing some silver with gunmetal, or silver with gold and a splash of rose gold to kick things up a notch. Our CZ jewelry will give you endless style options!

Lets not forget about the guys! We carry a wide range of masculine and timeless pieces for the stylish men.
Whether he's looking for a simple chain or a thicker chain to really show off his style, or stainless steel & tungsten bracelet we've got it covered.
Share this page with family and friends!
Costumer Services Shopping Be Social